ALUMINUM JACKETING INSTALLATION:
Installing Aluminum Jacketing on insulated pipes is very easy when it is cut and rolled to the pipe size. Below are some key notes to remember during installation:

1. On horizontal piping, make sure the lap of the aluminum jacketing is pointing down to prevent any rain runoff from seeping in.
2. Fab Straps are usually specified to be placed every foot of piping making sure placement is close to the joints of two sections of jacketing.
3. On vertical piping, make sure the joints of the two sections overlap with the higher piece being placed over the lower piece. This will prevent rain runoff from seeping in.
4. On exterior pipes, all joints and laps should be caulked with aluminum colored silicone caulking. During installation, install a small bead of silicone caulk around the last previously installed piece of jacketing where the overlap will occur. Then once the new piece of jacketing is put over the pipe insulation, place a small bead of caulk down the length of the inside seam and then close the jacketing up pressing down on the caulking creating a good seal.

5. An expansion joint should be installed on each run of pipe insulation. An expansion joint is a 6" to 8" overlap of two sections of aluminum jacketing that allows for expansion and contraction due to temperature changes.
USE THE CHART BELOW TO SELECT THE CORRECT JACKETING SIZE FOR YOUR PIPE INSULATION: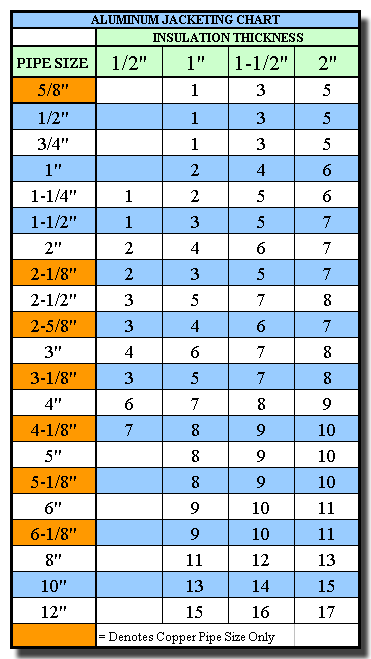 ALUMINUM ELBOW COVERS: