| | |
| --- | --- |
| | |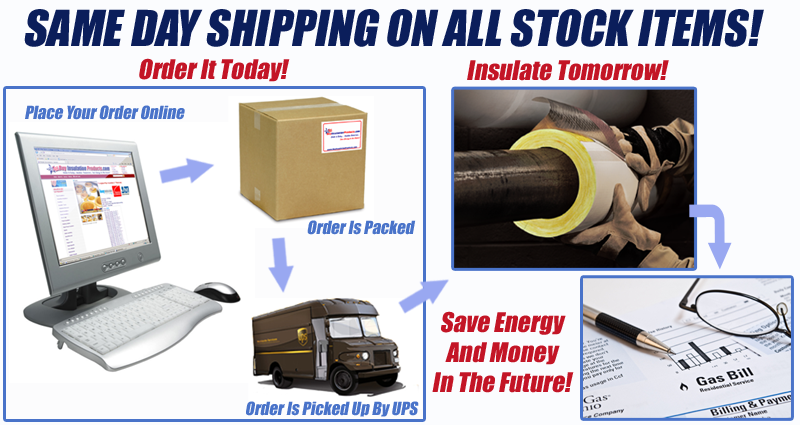 Welcome to our Super-Store BuyInsulationProducts.com!

At Buy Insulation Products.com we sell every product and accessory that has to do with the Mechanical Insulation, Firestopping, and Abatement Industries. All of our products are offered at Contractor Discounts and unless noted otherwise, all of our products are In Stock and ready to ship the same day you order. And because mechanical insulation can be tricky, we make ordering simple with easy to use charts and tables to make sure what you order is what you need.
See what our customers have to say about us! SEE OUR TESTIMONIALS!
SOME OF OUR MOST POPULAR PRODUCTS
Fiberglass Pipe Insulation

Our best selling product in our store! Fiberglass Pipe Insulation is used to insulate piping systems that range from temperatures as low as -20°F to as hot as 1000°F. Fiberglass Pipe insulation is rigid pre-formed fiberglass that comes with white All-Service Jacketing (ASJ).

We Stock All Pipe Sizes in 4 Different Thicknesses!

Learn more about our new ASJ Max Fiberglass Pipe Insulation from Owens Corning

PVC Fitting Covers

Used in conjunction with Fiberglass Pipe Insulation, PVC Fitting Covers insulate elbows and other pipe fittings with a fiberglass insert wrap along with a PVC protective cover. PVC Fittings make every pipe insulation project look clean and professional.

We Stock Every Type of PVC Fitting Cover!

PVC Cut & Curl Jacketing

PVC Cut & Curl Jacketing is used to cover pipe insulation to protect it mostly from moisture exposure. PVC Cut & Curl Jacketing is required by the FDA in most food processing facilities as well as any plant with regular "wash downs". PVC Jacketing is cut to size and curled to fit specific diameter pipes. The overlap comes with adhesive tape for a temporary closure. Proto-One Adhesive, PVC Vinyl Tape, or King Tacks are recommended for permanent closure.

Rewettable Canvas Pipe Lagging

Rewettable Canvas Pipe Lagging is wrapped around asbestos pipe insulation to encapsulate hazardous fibers from entering the air. Rewettable Canvas is made out of a fiberglass cross woven thread that is embedded with an inorganic rewettable coating. Once moistened, the rewettable coating becomes sticky and hardens once it dries. Rewettable Canvas Pipe Lagging can be coated with Fiberlock Lag-Kote II Bridging Encapsulant to add a secondary barrier to the asbestos insulation

Elastomeric Rubber Pipe Insulation

Rubber Pipe Insulation is a closed cell elastomeric insulation that is primarily used on hot and cold water piping as well as refrigeration lines. Rubber Pipe Insulation can be installed on piping systems ranging in temperature from -70° up to 200°.

Green Glue Noiseproofing Compound

Green Glue is a viscoelastic damping compound that, when sandwiched between two layers of rigid material, greatly reduces the amount of sound transmitted through walls or ceilings, and reduces the amount of noise generated from impacts on floors.

Ceramic Blanket High-Temp Insulation

Unifrax Durablanket S is a flexible blanket that is ideal for high temperature applications up to 2150°F. The ceramic fibers used in this product have an impressive melting point temp of 3200°F! Great for exhaust pipes, pizza ovens, wood burning stoves, etc.
BuyInsulationProducts.com is an online shopping site which sells mechanical insulation products and accessories to customers throughout the United States. Buy Insulation Products is affiliated with large insulation wholesale distributors which allows the online site to offer wholesale prices to all customers regardless of the size of their order. This site caters toward insulation contractors, general contractors, plumbing supply houses, asbestos abatement contractors, HVAC and Sheet Metal workers, and residential homeowners.
Products available for sale at Buy Insulation Products.com are fiberglass insulation products, insulation tools, insulator tools, firestop materials, asbestos abatement supplies, pvc fittings, spray foam insulation. The fiberglass insulation products we sell are fiberglass pipe covering, fiberglass duct wrap, fiberglass board, and fiberglass pipe and tank insulation. The asbestos abatement supplies we sell asbestos warning printed bags, asbestos glove bags, respirators and hepa filters, poly sheeting, and much more. See below for a listing of some of the products for sale on our online store at Buy Insulation Products.com